Elles Bailey
Rocket Science have created targeted adverts to support Elles Bailey on selected 2019 tour dates and continue to help market her on her 2020 tour.

---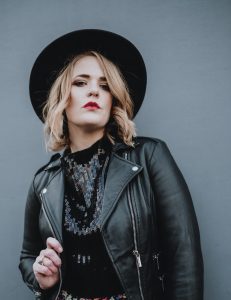 2019 has been a hell of a year for the super-smoky-voiced, hard-working, far-touring chanteuse Elles Bailey. On 8th March, she dropped her eagerly-anticipated second album 'Road I Call Home' to rave reviews, with the album charting in the Official UK Country Charts & Americana charts, gaining over 1.3 million streams since its release and reaching No.1 on the Amazon Blues Bestseller chart
Like its chart-topping predecessor, 'Road I Call Home' features co-writing contributions from high-calibre collaborators, including British hit-making legend and Ivor Novello Award winner Roger Cook, storied Memphis and Nashville giant Bobby Wood, as well as Dan Auerbach (of Akron, Ohio powerhouses The Black Keys) on the infectious  'Little Piece of Heaven' which has been awarded 'Song of the Year' at the 2020 UK Americana Awards.
As a self-confessed 'rolling stone' – Elles genuinely does call 'the road' home. She's continued her wide-ranging headline touring throughout the UK and Europe and was also special guest support for Grammy Award winner Mike Farris, Martin Harley, The Kris Barras Band and King King.
2018/19 has also seen Elles Bailey move up the festival listings becoming a featured artist at key festivals including Black Deer, Swing Wesplaar, Ramblin' Man Fair, & The GB R&B Festival. She also headed stateside for the International House Of Songs Summit in Arkansas and played Nashville's Americana Fest.
2020 sees Elles touring the UK in March, Germany in April and playing many more international stages including taking to the high seas for the Joe Bonamassa 'Keeping the Blues Alive at Sea' cruise alongside the man himself, Joe Bonamassa, King King, Samantha Fish, Walter Trout and many more.
As well as being an international touring artist, playing sold out shows all over the world, Elles is a self confessed DIY artist and If ever there was a fine example of the Do It Yourself nature of the music business then Elles Bailey is it. From rather humble beginnings Elles has by dint of hard work and talent smashed through and past much bigger artists and bigger industry players – not least major record labels – by taking time and effort to really understand the brave new world that is today's landscape, being brave, breaking rules, making a few mistakes (always part of the learning process) and just powering through obstacles and doing whatever it takes. Her work ethic, both on the road, at shows, and in front of her spread sheets is nothing short of phenomenal.
Miss Bailey really does call the road home & when she arrives near you, don't think twice, get there.  A great evening and a long musical friendship will be waiting.
"Absolutely Superb" Bob Harris BBC Radio 2
"An Outstanding Follow Up from this Extremely Talented Artist" Maverick  *****
"Home grown favourite nails that difficult second album with aplomb" Country Music Mag ****

"Spellbinding – Elles Bailey is on the road to stardom, just make sure you don't miss her journey" Fireworks
"Nothing short of phenomenal" Building Our Own Nashville
"Elles Bailey Crushes it – 5 Stars" Music News
"This is a wonderful album" RockPoser